Construction and Maintenance Updates
Timber Bridge Repair - Novato 
Sunday, June 27, 2021
5:30 AM — 7:30 PM
On Sunday, June 27, SMART contractor Koppers Railroad
Structures will make repairs to the timber bridge located 650 feet south of Roblar Drive in Novato. Repair work is being done to replace the beams and rail ties on the bridge. A crane will be utilized during Sunday's repair work, and adjacent residents can expect to hear backup beeps and handheld hammers. Repair work is being done on Sunday because it is the only work window on our current schedule.
See flyer with map (construction zone in red).
For more information, call our Project Information line:
(707) 794-3077, or email us at: info@sonomamarintrain.org.
Para información en español llame al número: 707-794-3330. 
Safety is our top at SMART.  We work hard to maximize safety during repair and construction work. Please do your part and stay clear of all construction equipment and activities.
---
SMART Pathway Closure Notice (Payran St.- Southpoint Blvd.)
As part of the project to widen Highway 101 in Petaluma, Caltrans will close the SMART bicycle/pedestrian path between Payran Street and Southpoint Boulevard on Tuesday, April 21, 2020 until late June 2023. 
The closure of the path will allow Caltrans to safely demolish and rebuild the Petaluma overcrossing, which passes over the multi-use path and the SMART railroad tracks.
Access the SMART multi-use pathway via the detour outined below: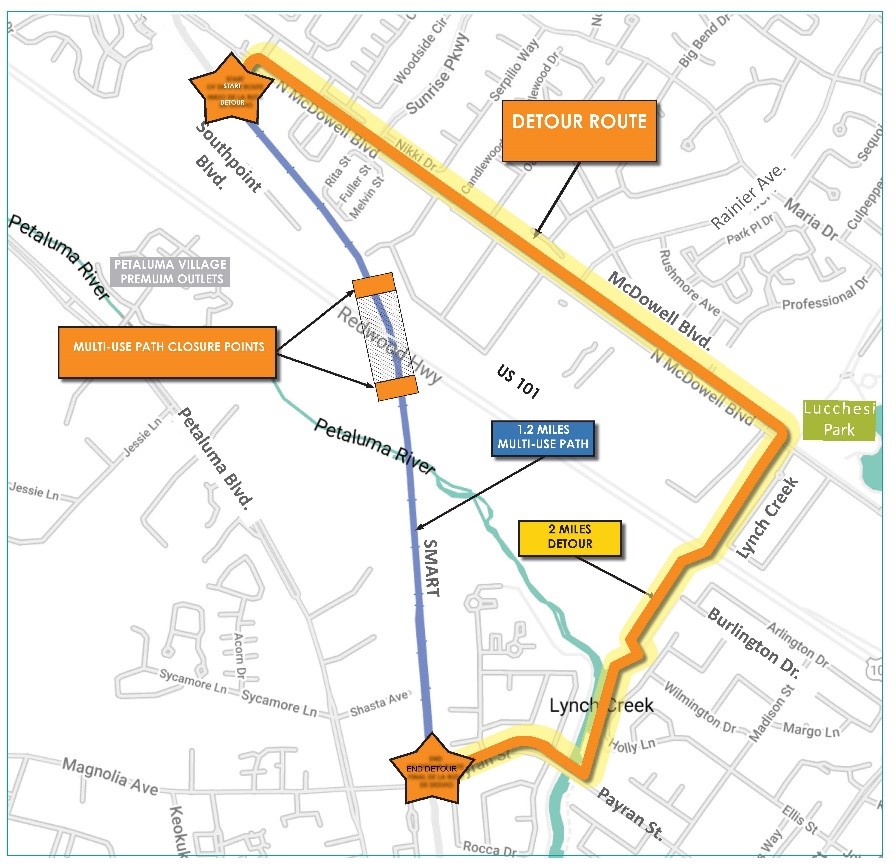 Rail Corridor Maintenance
San Rafael (Los Ranchitos neighborhood) - SMART will be removing hazardous branches and limbs that are overhanging the railroad tracks and encroaching upon the rail corridor. The tree work will occur from North San Pedro Rd. to Civic Center Dr. SMART's tree contractor will work 8:00 AM-5:00 PM on Saturday, April 4, and 8:00 AM-5:00 PM on Sunday, April 5. 
SMART Pathway Construction Project
SMART was selected to receive a $12.6 million grant to fund its bicycle and pedestrian pathway project in Petaluma, Rohnert Park and Santa Rosa. SMART is currently gearing up to begin construction of the bicycle-pedestrian pathway between Payran Street to Southpoint Boulevard in Petaluma. To view a progress map of the pathway, please click here.
SMART has completed the following segments:
Healdsburg: Front Street to Grant Street,
Santa Rosa: Sixth Street to Guerneville Road,
Rohnert Park/Cotati: East Avenue to Golf Course Drive.
Rohnert Park: Sonoma Mountain Village to the Cotati SMART Train Station,
Southwest Santa Rosa: Hearn Avenue to Bellevue Avenue, with pathway connections to Downtown Santa Rosa SMART Station.
Novato/Petaluma: SMART Novato San Marin Station to County Line,
Novato: Rush Creek Place to SMART Novato San Marin Station,
Novato: SMART Novato Hamilton Station to Hamilton Parkway,
Novato: Franklin pedestrian crossing (near Sutter Health) to Grant Street in downtown Novato (future Novato Downtown Station),
San Rafael: North San Pedro Road to SMART Marin Civic Center Station,
San Rafael: Merrydale Road to Mission Avenue.
---
Passenger Rail Feasibility Study: Novato to Suisun
At the request of the California State Transportation Agency, SMART has reviewed the technical feasibility of implementing passenger rail service between Novato and Suisun City to a connection to the Capitol Corridor passenger rail system.  The Feasibility Study inventories the facilities and natural environment, develops conceptual options for rail service, provides high-level cost estimates and approximates travel times. This exciting prospect could provide a transportation alternative to those that travel the Highway 37 corridor and build upon transit connections that exist today.
The full report can be accessed here.