SMART is Taking Proactive Measures Regarding the Coronavirus
Thursday, March 5, 2020 - 4:05pm
Petaluma, CA—The Sonoma-Marin Area Rail Transit District is monitoring the coronavirus (COVID-19) situation closely and we are in contact with the Department of Health Services for both Sonoma and Marin counties.
While there is no increased risk to transit riders, we want to assure you that we are continuing to be proactive to help protect the health of our riders and our staff.
Twice a day (at mid-day and at night) we are thoroughly cleaning and wiping down the trains with a disinfectant.
Before each train is put back in service, SMART crews:
thoroughly clean the train restrooms including sanitizing the toilet, sink, mirror, walls and baby changing station
refill soap dispensers and service water
wipe down interior surfaces, including seats, seat back trays, tables, hand-rails, windows, and luggage racks
sweep, vacuum, and mop interior floors
empty all trash and recycle bins
And, as an extra precaution, we are installing two hand sanitizer dispensers on each train. The installation of these dispensers should be completed by early next week.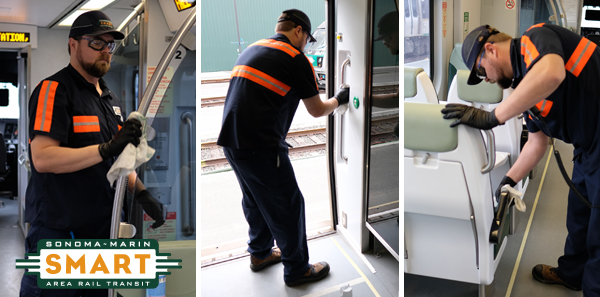 Per the Centers for Disease Control and Prevention, the best way to prevent transmission of the coronavirus continues to be to:
wash your hands frequently with soap and warm water
stay home if you're sick
cover a cough or sneeze with a tissue, then throw the tissue in the trash and wash hands
STAY INFORMED:
Both Sonoma and Marin counties have websites with up-to-date information about the coronavirus.
Sonoma County: https://socoemergency.org/emergency/coronavirus/
Marin County: https://www.marinhhs.org/coronavirus